SAiDTalks: Professor and Hip-Hop Scholar Seth Markle Talks Tanzania's Hip-Hop Scene and Organizing One of the World's Top International Hip-Hop Festivals
February 14, 2019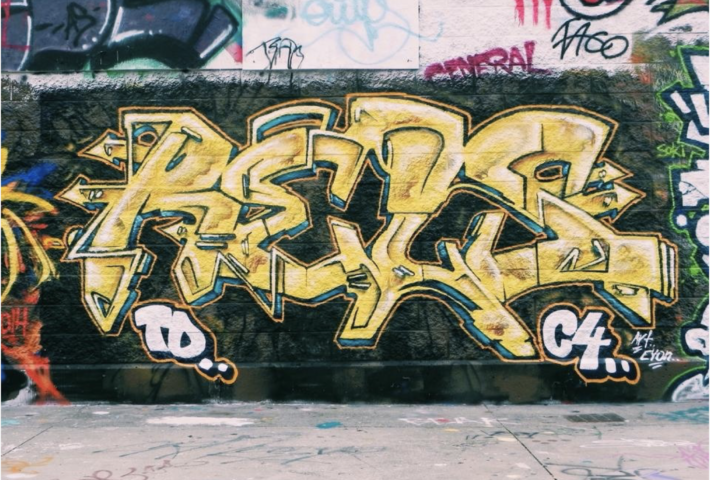 Greetings, SAiDTribe! We hope you enjoyed our first installment of SAiDTalks with acclaimed Africanfuturist Nnedi Okorafor. This Black History Month, we are excited to share this next SAiDTalks feature, which we will explore the history, present, and future of one of the most impactful sounds to emerge from the African diaspora: hip-hop!
We had the privilege of being in conversation with Seth Markle, an Associate Professor of History and International Studies at Trinity College in Hartford, Connecticut. His work focuses on the histories of cultural and political exchange between Africa and the African Diaspora. After graduating from Tufts University (B.A., Africana Studies/English) in 2000, he continued working as a youth organizer in Boston before studying at New York University (Ph.D., History).
Since 2003, he has worked in various hip hop/youth centered communities, including Dar es Salaam and Arusha (Tanzania), Nairobi (Kenya) and Hartford, CT (USA) via research, journalism, radio broadcasting, arts education programming, youth development, event planning and photograph and video documentation.
Markle is the lead organizer for the Trinity International Hip-Hop Festival. Now in its 14th year, the Festival has attracted the most prolific, influential and gifted MCs, DJs, graffiti artists and B-Boys and B-girls in the world, with past headliners including Rakim, A Tribe Called Quest, Talib Kweli, MC Lyte, Dead Prez, and Noname. A flyer for the Trinity International Hip-Hop Festival is currently on display at the Smithsonian National Museum of African-American History and Culture.
As an expert in the study of global hip-hop culture, how would you socially, politically, and culturally define "hip-hop"?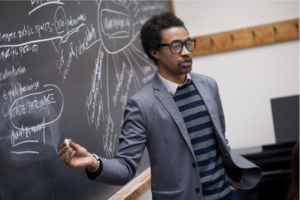 Hip Hop is a Black diasporic music and culture that revolves around 4 core aesthetic elements (DJing, Breaking, Rapping and Graffiti Writing) and 1 conceptual element (i.e. Knowledge). At its core, it is a nonviolent creative response to marginalization and oppression.
If you were to trace the origins of hip-hop, where would you say that it started and evolved into what we know it to be today?
Hip Hop was started in the South Bronx, New York City on August 11, 1973. On that day, at a back-to-school party for his sister, DJ Kool Herc introduced the world to the break beat and the rest is history. 
One of your areas of expertise is hip-hop and the Black Power movement in Tanzania. What drew you to Tanzania's hip-hop scene in particular, and what would you like our SAiDTribe to know about Tanzanian hip-hop culture?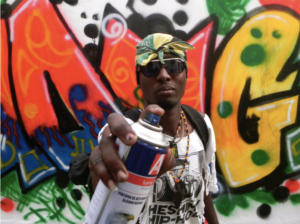 I identify strongly with hip hop culture. I fell in love with it when I was 7 years old, so I've been a part of the culture/movement for over 30 years. What drew me to the hip hop scene was that I was seeing part 2 of the story I was trying to tell in my book about African American movement activists living and working in Tanzania during the 1960s/197s0.  By seeing murals of Tupac, by interacting with Tanzanian hip hoppers, by being a part of Dar es Salaam's vibrant nightlife, and by attending open-mics and battles, I was seeing that a new generation of Tanzanians were attempting to communicate and connect with the African Diaspora but through a different medium of transnational dialogue – hip hop. Your audience should know that hip hop in Tanzania goes beyond rap music. More and more people are pursuing their creative talents through DJing and beat production, dance, spoken word and graffiti. It is a movement that is growing, but one filled with contradictions. When it comes to rhyming in the Kiswahili language, Tanzanian MCs are at the very top within East Africa.
How does the hip-hop scene in Tanzania compare to the hip-hop scenes in the United States and across the African diaspora?
There are a lot of similarities and differences. In my travels and studies, I've found that most hip hop movements in whatever city or country are usually male-dominated and youth centric. Hip Hop artists tend to be exploited by a music and media industry solely fixated on profit. I find that most scenes have commercial and "underground" sub-scenes that are conflict with one another. And, lastly, most hip hop artists use social media. The differences are many as well. You may not learn all that much by trying to compare a given hip hop movement in the African Diaspora, or anywhere else in the world for that matter, to U.S. hip hop. We must avoid framing U.S. hip hop as the "ideal type". Hip Hop movements are differentiated by their respective social, cultural, political and economic histories.
Let's talk about the world-renowned Trinity International Hip-Hop Festival, which has been held on Trinity College's campus in Hartford, Connecticut every year since 2006. The Festival attracts the hottest DJs, MCs, b-boys and b-girls, graffiti artists, and hip-hop scholars from all over the globe, from Tanzania to South Korea, from Russia to Palestine, from the United Kingdom to Brazil. How do you and the student organizers approach outreach to so many different hip-hop communities across the world?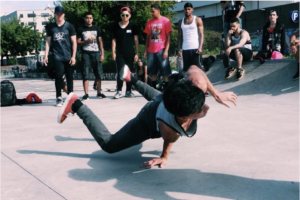 The students try to make sure that different countries are represented each year in some capacity. Limited funds and the Trump administration's anti-immigrant sentiment have made it increasingly difficult to bring artists from other countries to the festival, especially from Africa and the Middle East. In October, student organizers send out a call for performances via social media and then host listening parties on campus to decide who the rap artists will be. Our community partners help with identifying local artists to perform. I play a big role in identifying graffiti writers and academics as well as applying for external funds.
The Hip Hop Festival has a wide array of panel discussions that delve into hip-hop not only as a genre but as a global movement and phenomenon worthy of academic research and study. What kinds of dialogues do you hope these panels will start and/or continue?
Over the past 14 years, the academic portions of the festival have touched on a wide range of topics such as censorship, women's equality, Black Lives Matter, and Islamophobia, to name but a few.  We hope that these knowledge sharing components will educate our audience in some shape or form or challenge our audience to think differently.  For hip hoppers from around the world, the festival serves as networking space that allows them to connect and potentially collaborate after the festival. We hope that people come to the festival with an open mind and leave the festival knowing that hip hop is a global movement committed to espousing the ideals of peace, love, unity and having fun.
If you had to choose your favorite three headliners at the Festival, who would they be?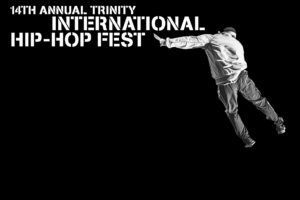 For me, hands down, Rakim Allah is number one. He is considered one of the greatest MCs of all time. I grew up listening and memorizing songs like "Paid in Full", "I Know You Got Soul" and "Follow the Leader".  Watching him perform live for the first time and meeting him in person backstage was definitely a "Bucket List" moment for me. Very surreal. The other two would be: KRS-One and Jean Grae.
A theme that comes up often in hip-hop is youth empowerment. How does the Hip-Hop Festival engage kids and teens in the activities throughout the weekend?
The Dance Showcase and Competition, which is held Friday night, attracts about 500 young people. Today's youth generation are really into hip hop dance in all styles, thus making this event our most popular. For 6-7 years, we also host the Youth 4 Change Conference, which is a day devoted to hip hop education for youth, ages 13-19. About 60-100 youth participate in active-learning workshops facilitated by professional hip hop artists and educators being featured at the festival. In addition to workshops on poetry, DJing, dance, traditional African drumming, and grassroots organizing, youth participants also put on display their artistic talents by performing original pieces of work. In the past, we've also brought the festival to the community by bringing hip hop artists to the Hartford Public Library and community centers in the surrounding community. For our annual Keynote Lecture, I spend a lot of time reaching out to high schools and college prep programs to ensure high youth participation because, at the end of the day, youth are our primary target audience.
I understand that in January 2017, you and members of the Trinity student-led organization Temple of Hip Hop went to Russia and connect with the local hip-hop community in Moscow. I'd like to hear more about that experience for you and the students, especially against the backdrop of Trump's recent election.
Only one undergraduate student came on the trip. The rest were professional hip hop artists from Hartford. I think for the student it was a transformative experience because it was her first time abroad and she was exposed to learning about hip hop in Russia from the people who lived it. We initially planned on going to Russia in 2016 when Obama was president, but there were visa delays. We were mindful of the soft cold war brewing at the time and we made sure that our cultural exchange project didn't get caught up in all of that nonsense. For our delegation, which was made up of all black people, we were more struck by the racism we encountered in the 3 cities we visited. But overall it was an amazing experience. I was genuinely surprised that people wanted to know more about how I teach hip hop in the college classroom.  A short documentary film about the trip can seen here.
Before we wrap up, I want to talk briefly about a topic that is pretty hot at the moment: the relations and tensions between people of African descent (African-Americans, Caribbean-Americans, African immigrants, continental Africans, etc.) in the United States. This is a pretty controversial subject, with some even saying that there is a "diaspora war" going on right now. What is your take on this cultural moment for people of African descent residing in the United States and where do you see hip-hop playing a role in bridging any divides that may exist?
Calling this a "diaspora war" is way too extreme for my taste. It hasn't led to violence on some astronomical scale. Do tensions between black ethnics in this country exist? Of course. But I'm not entirely convinced that the dialogue is getting at the root of the problem. I think hip hop is playing role in bridging those divides given its global popularity among young people who I really think are the engines of change. Hip Hop's peace-building ethos has been there ever since its inception when it emerged as a response to gang violence. If people just return to the source and reclaim hip hop's original meaning and intention, I imagine it could foster mutual understanding between black people in this country. Putting hip hop aside for a moment, because it can't solve everything, I think we need to be better active listeners. We are not listening to each other.
Thank you so much for your time, and I am sure that our SAiDTribe would definitely love to attend the Trinity International Hip-Hop Festival this year! When will the headliner be announced?
As soon as the contract is signed. It should be any day now.
Make sure to mark your calendars for the 14th Annual Trinity International Hip Hop Festival, March 28-31, 2019. Free and Open to the Public.