The ADA 2016 Re-cap: Luvvie Ajayi, Laolu Senbanjo, Sarkodie and Much More.
December 13, 2016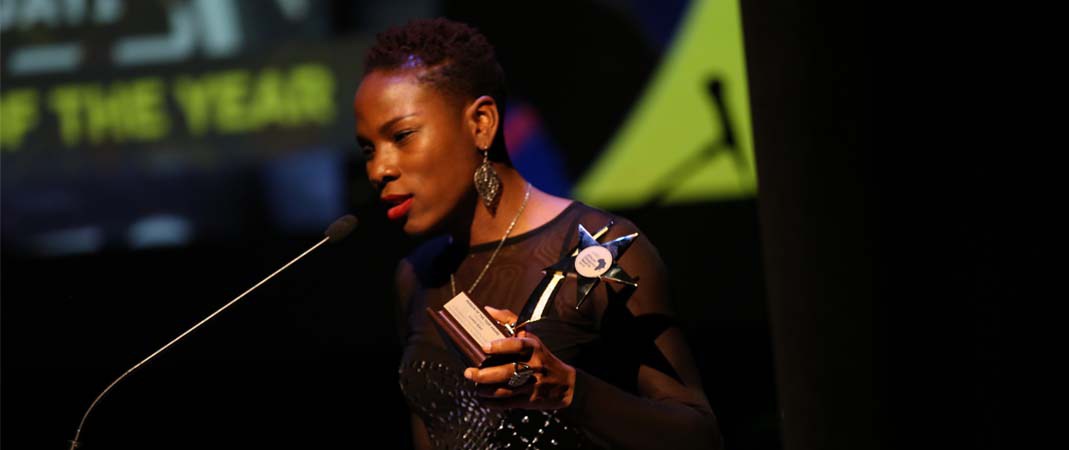 On December 3, 2016 more than 400 exquisitely dressed individuals gathered at the Florence Gould Hall in New York City in New York City to celebrate Africans who have impacted and inspired the African community. The 6th edition of this annual Award ceremony was hosted by Comedian Dulo.
The night brings together an extraordinary array of influencers including entrepreneurs, musicians, artists, actors, corporations and other exemplary African's of the Diaspora and their friends. This awards has become the "Who's Who" of meaningful and powerful leadership in the Diaspora. Honorees were submitted by a world-wide nomination process online and selected by a Board of Judges including former ADA Honorees Chinedu Echeruo, Lola Ogunnaike, Thione Niang, Yolanda Sangweni.
This year's Honorees include Jessica Matthews, Entrepreneur of the Year; Ato Essandoh, Artist of the Year; Laolu Senbanjo, Creative Artist of the Year; Georgie Badiel, Face of Change; Mamadou Samba; Public Service of the Year; UNFPA, Humanitarian of the Year; Joseph Mizzi and Nchimunya Wulf of 14+ Foundation, Community Service of the Year Award; Loza Maleombho, Designer of the Year Award; Luvvie Ajayi, Person of the Year, Babatunde Osotimehin; Lifetime Achievement Awards
Actor Ato Essandoh who won Artist of the Year said he was happy to be in a room full of people that celebrated their heritage. "It's a wonderful thing to see all this Africaness," he said. "We need to keep fighting for our identity because if we don't fight they will take it away," he added.
Laolu Senbanjo, who became well known after his collaboration with Beyoncé, won Creative Artist of the Year Award. The father of one dedicated his award to his late grandmother who he said taught him everything he knows concerning the Yoruba culture.
New York Times best-selling author, Luvvie Ajayi won Person of the Year Award. The writer expressed to the crowd that she incorporates her culture in her work. "One thing that has been important to me as a writer has been to infuse my Nigerianess in what I do," she said. The blogger also expressed that she was brought up to go into a room with her head held high. "Another thing about being Nigerian is I was raised to walk into a room like we owned it," she added. Ajayi is happy about her success and hopes to inspire young girls to desire an occupation other than being a doctor. "Due to my success, there is a little Nigerian girl that can aspire to be a writer because Luvvie is a writer," she said.
Jessica Matthews won Entrepreneur of the Year Award. The Founder and CEO at Uncharted Play stated that the people of Nigeria are goal getters and owes her success impart because of the values in her culture. "There isn't a Nigerian in the world that doesn't think that they can do anything that they put their mind to," she said. "It's my Nigerian heritage that brought me to where I am and I am grateful," she added." The Harvard Graduate explained to the audience that in order for them to change the future of their citizens, they need to support their own. "We as Africans in the diaspora need to build a future that we want," she said.
Georgie Badiel won the Face of Change Award. The activist reminisced about the struggle she endured as a child in Burkina Faso just to get a basic human need. "I walked for miles to get water as kid," she said. The former model said the light bulb came to her when she went back to her home country in 2004. She witnessed her nine month pregnant sister wakeup at 2 am to just fetch water. "This was the moment for me to make a change," she said. Badiel has dedicated five years of her life helping over 75,000 of her people get access to clean drinking water but she believes there is more to be done. "The work is not over," she said.
CEO of Applause Debo Florunsho delivered a powerful thank you speech first recanting the birth of Applause Africa. "We said to ourselves, how we celebrate people that we share the same values culture, and goals for Africa with," he said. He added, "It's going to be ADA." Folrunsho thanked his wife about her dedication to him while following his journey from the University of Lagos. "From Uni Lag, to San Francisco, to New York, to Houston, then back to New York, I love you," he said. Folrunsho also thanked the board of judges, ADA team, the executive producer, Ijeoma Obilo Faison, Seun Ariyo, Oluwaseye Olusa and the crowd for their continued support.
Dr. Babatunde Osotimehin received the Lifetime Achievement Award. The Public Health expert assured the crowd that the motherland has all the resources to become the most powerful nation of the world. "Africa is now and Africa is the future," he said. "We have all the ingredients to take over the world," he added. Though the Physician said he didn't prepare a speech, Dr. Osotimehin spoke for 15 minutes speaking passionately to a listening crowd. The doctor also displayed why he was the perfect candidate to win the Lifetime Achievement Award. He publicly committed to partner with the humanitarian organizations that were present and assured them that he will aid them in achieving their goals. "I don't know what we can do at UNIEF but we will help you," he said while receiving a standing ovation from the crowd.
Other award recipients were Executive Director at Mayor's Office on African Affairs in Washington DC, Mamadou Samba, Advocate of the Year Award; United Nations Population Fund, Humanitarian Work in Africa Award; Joseph Mizzi and Nchimunya Wulf of 14 + Plus Foundation, Community Service of the Year Award; and Loza Maleombho Designer of the Year Award.
There was so much love in the crowd between the Africans that can came to celebrate but there was one disagreement that even this wonderful award ceremony couldn't seem to reconcile between the nations represented. Which country has the best jollof rice?
Presenters of the Awards included Aminat Ayinde, Thione Niang, Lola Ogunnaike, Saran Kaba Jones, Esosa Edosomwan, Yetunde Odubesan-Omede, Kobi Brew, Charles Cooper and many more.
The event was sponsored by United Nation Population Funds, Transfast, Brussels Airlines and the night included a special performance by BET Award Winner Sarkodie. Other performers Ayo, Shanelle Gabrielle, Myoa, Emmanuel Benjamin and Owen.
Over the past ten years, Applause Africa has devoted their platform to celebrate Africans in the Diaspora who have made a significant difference in African communities and sectors around the world. Applause Africa's accomplishment and committed track record is evidence of its mission to showcase the efforts of admirable role models in the African community.
The African Diaspora Awards is a special platform that aims to commemorate and celebrate exemplary individuals who have made a remarkable difference in the African community in the United States. The African Diaspora Awards also aims to recognize and celebrate notable Africans that have genuinely excelled in various spheres of life, as well as individuals in society who have contributed to the advancement of Africans in the Diaspora and Africa as a whole.
Photographs by Solwazi Afi Olusola of DARA